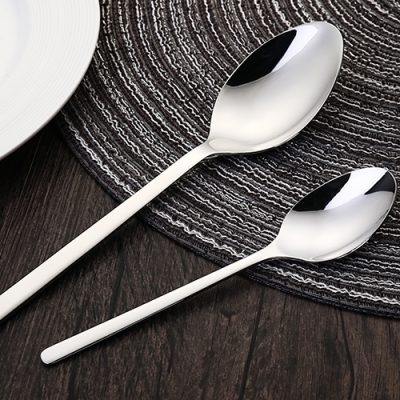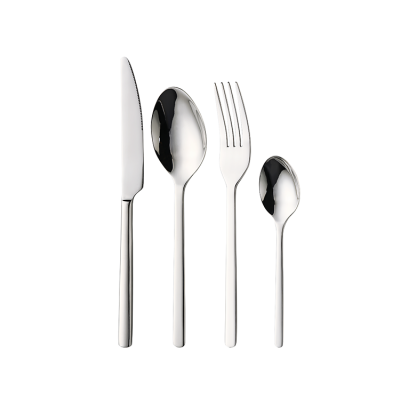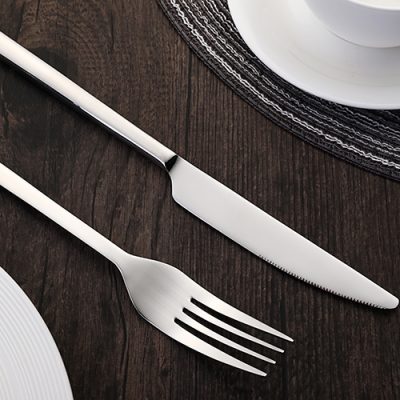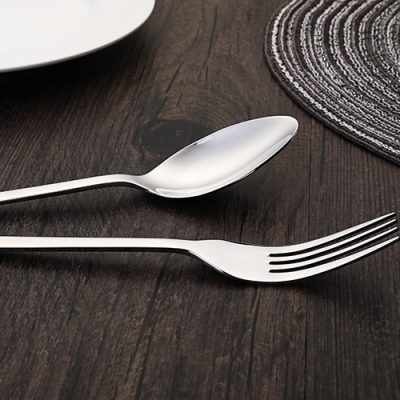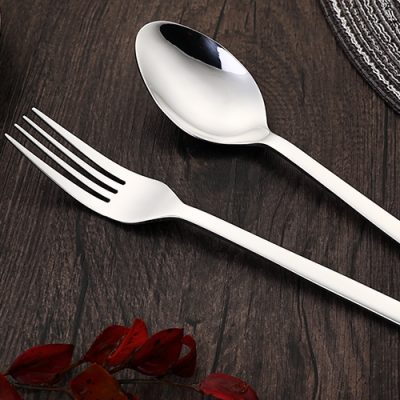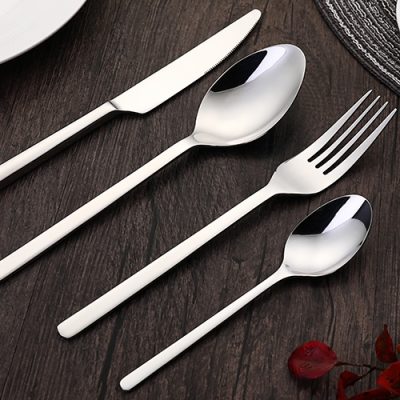 Product Name
Stainless steel flatware
Material
Stainless Steel 410(18-0)
Color
Sliver,  Gold, Rose Gold, Colorful, Black, Customizable
Weight 
300g
Polish
Mirror Polish
Size(cm)
24
OEM & ODM
Acceptable
Packing
opp bag, white box, wooden box, color box
Shipping term
by Sea, by Rail, by Air, by Express(DHL,UPS,FedEX,EMS,TNT…)
Care Instructions
Wash with hand and soft sponge, the color will stay longer time
(Silver color can be used in the dishwasher)
MOQ :
  30 Sets
Lead time :
  Basically it takes 7 days if we have in stock. If not, it depends

on the quantity.

Set Composition
dinner knife, dinner fork, dinner spoon, tea spoon
Usage
Hotel, restaurant, family used, wedding party,dinner party, supermarket, as a gift, souvenir, sell retail and other.
Stainless steel antibacterial tableware refers to a new type of stainless steel antibacterial tableware that has the function of killing or inhibiting microorganisms. Its special feature lies in the materials used. Antibacterial materials refer more to a new type of functional materials that can inhibit or kill surface bacteria by adding certain antibacterial substances, such as antibacterial plastics, antibacterial fibers and fabrics, antibacterial ceramics, and antibacterial metal materials. There are extremely broad application prospects in the medical field, household products, household appliances, food packaging and other fields. In the modern era where people have increasingly higher environmental hygiene requirements, the application of antibacterial materials has received more extensive attention.
face-centered cubic lattice structure (austenite) and close-packed hexagonal lattice structure (ferrite). The austenite itself is not magnetic, but the degree of mechanical processing is the root cause of the magnetic size, but it does not affect the corrosion resistance and other qualities of stainless steel. Stainless steel is more and more popular with people because of its beautiful appearance, corrosion resistance characteristics, and the advantages of not being easily damaged. Stainless steel is used more and more in pots and pans, urban sculptures, buildings, and decorated rooms.