>>Custom bowl size
Divided by the diameter of the bowl mouth, bowl sizes are 3.5 inches, 4 inches, 4.25 inches, 4.5 inches, 5 inches, 5.5 inches, 6 inches, 6.5 inches, 7 inches, 7.5 inches, and more than 8 inches. Household soup bowls are around 10-12 inches, and the larger ones are 20 inches. The small ones are usually around ten inches, and the bigger ones are around twenty inches. A general household bowl of 4.5 inches refers to the diameter of the mouth of the bowl, 4.5 inches = 11.43 cm, and the usual bowl for eating is 4.5 inches.
For example: 6-inch tableware is about 15cm in diameter, and 4.5-inch bowl is about 11.5cm in diameter.
In the imperial system, 1 inch = 2.54 cm, 12 inches (inches) is 1 foot (feet), and 36 inches is 1 yard.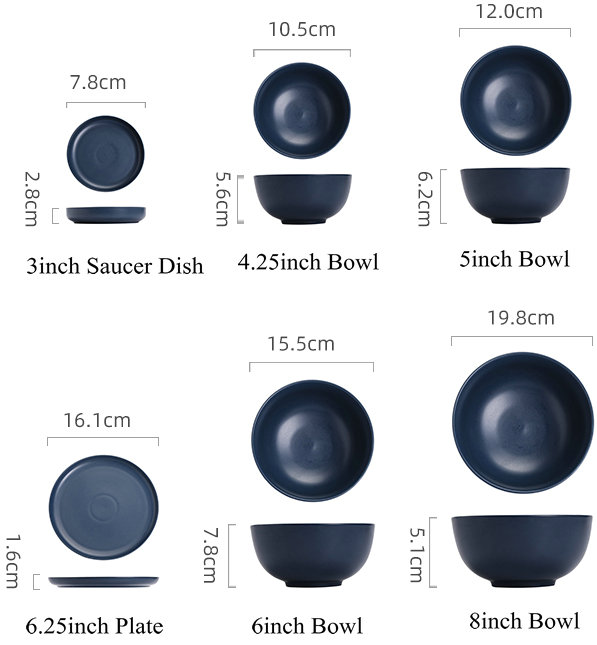 >>Custom plate size
Bread/butter flat plate 6.5 inches, salad plate 8.5 inches, deep soup plate 9 to 11.6 inches, steak plate 10.5 inches, display plate 12.5 inches (for decoration), dessert plate 7.5 inches (can be replaced by bread plate) .
Generally, the cooking plates at home are 8-inch, but the 10-inch 12-inch plates in the restaurant are a little bit more. 6 inches—diameter around 15CM, suitable for snack plates/snack plates, 7 inches—diameter around 19.5CM, suitable for pastry plates/snack plates, 8 inches—diameter around 20.5CM, suitable for cake plates/salad plates.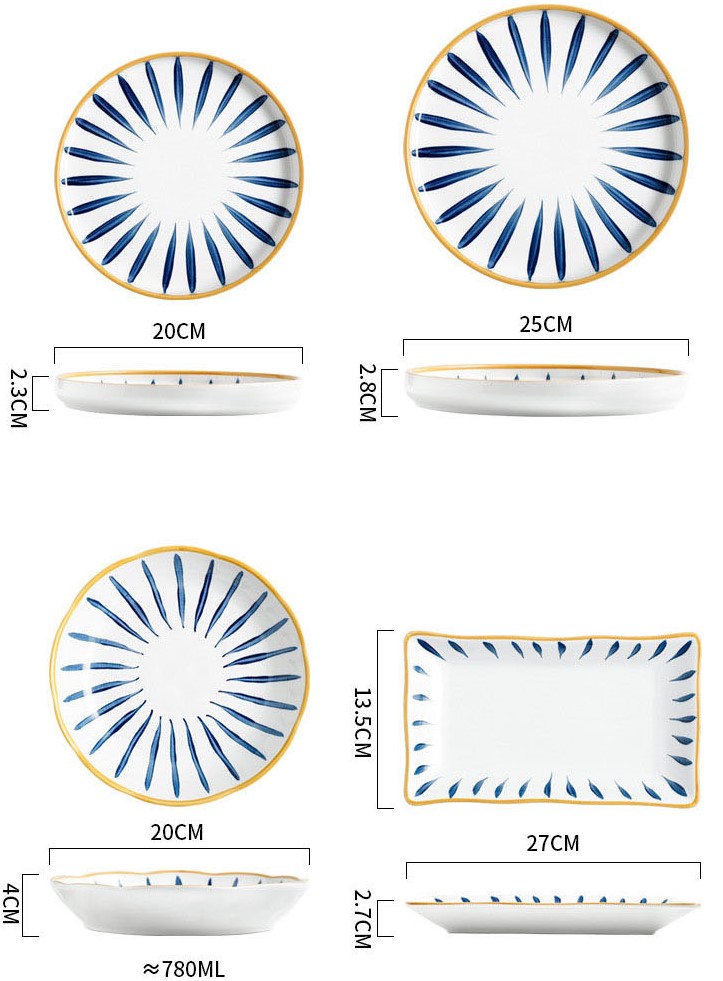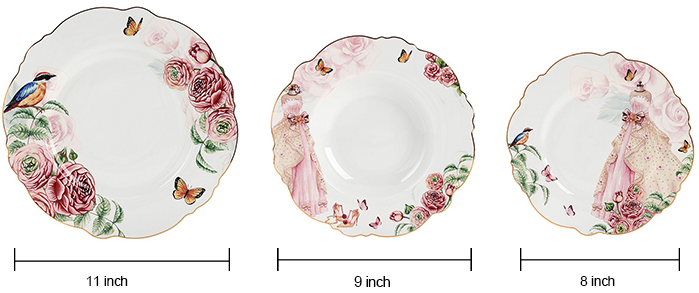 As a professional dinnerware manufacturer, we warmly welcome OEM and ODM orders. Your any size of dinnerware can be custom-made. Please kindly send us an email for getting more information.